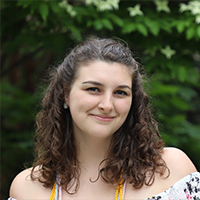 Cara Hullings
Talent of the Quarter - Q1, 2020
Each quarter (even amidst a pandemic), we recognize a particular talent who we feel best exemplifies Cella's core values of Service Excellence, Passionate Performance, Entrepreneurial Spirit and Employee Centricity. Top performers are selected based on their contributions and impact to our clients as well as their representation of our values. Talent of the Quarter receives a $500 gift card and a plaque delivered by a Cella senior manager and recognition on our website and Facebook page. In addition, each year we will nominate one Talent of the Quarter winner for the American Staffing Association's Annual National Staffing Employee of the Year Award.
We're excited to announce Cella's Talent of the Quarter is Cara Hullings, who was placed as a Proposal Coordinator for our client.
Cara is someone who truly exemplifies Cella's core values of Employee Centricity, Entrepreneurial Spirit, Passionate Performance and Service Excellence. She helps with various proposals and projects in the Higher Education, Business Dining, K-12 and Sports and Entertainment/Leisure space.
As Caras supervisor describes her, "She has quickly become a high performer and hugely trusted member of our team. Cara was called out by name by a sales client at our annual Global Growth Meeting (an audience of about 250+ sales people and executive leadership) for her excellent client connection, attention to detail and personality when partnering with our clients. She is regularly requested by the sales team who manage a $200M a year target list and is becoming a relied upon member of our team for advice, pointers and direction on project work. I wish I had 26 Cara's on my team"
Congratulations, Cara Hullings!